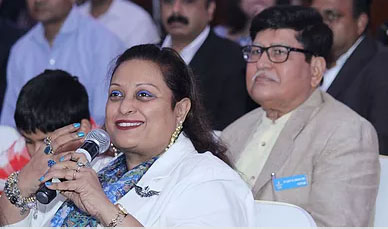 OUR PROFILE
Punam Agarwal, Founder and Proprietor of Neostylus, a leading learning and development solution provider to professionals and corporates, who has authored books titled – Leadership Training, Recruitment Tools, Business Communication – Soft Skills, Transitioning Managerial Skills Development and How to read Tarot Cards and Use Color Therapy. She is known as the 'Potential Maximizer Coach' who has a diverse background covering HR, Executive Coaching, Counseling, Communications, Behavioural Trainings& Soft Skills, Sales & Customer Experience, Motivational Speaker,  Interior Designing, Healer – Alternate Therapy(Reiki/ Pranic/Tarot Card reading/ Color Therapy) and NLP. Also was the Founding President and Secretary of NGO – Zindagi Harpal – An Attempt to Save. She is a PCC ICF Coach – Certified Executive, Life and Organizational Development Coach who has done her MBA from the USA in Human Resource, Double Graduate (St. Xavier's College India and Devon UK), PGD in Stress Counseling from the United Kingdom, Certified Psychometric Test Professional from CAMI- USA, Certified Learning and Development Manager from Middle Earth India, CELTA from Cambridge, UK along with the Train the Trainer Course, Certified in Master Practitioner NLP from NFNLP and has done varied certifications in Soft Skills, Behavioural and Sales Training. Also has worked as an IELT'S Clerical Marker for the British Council.
Offering over 30+ years of strong track record of generating extraordinary performance in a competitive scenario, Punam has been successfully coaching, counseling, developing and training in Indian and Middle East markets.
She is a proactive and multi-skilled, results-oriented leader with a strong track record of performance in turn-around and high-paced organizations across functional areas of administration, training, management, counseling, coaching and teaching
Punam has a rich work experience in Corporate, Airlines, Retail and Educational Industries which includes reputed names like Emirates Group (U.A.E), Dnata (U.A.E.), GEMS Group (U.A.E.), Higher Colleges of Technology (U.A.E.), Acer (Dubai), Voltas (Dubai), Abela (Dubai), Sevilla Internationals (Indonesia), KAMA Ayurveda Pvt Ltd, JRE Group of Institutions—School of Management and Engineering, Universal Business School of Management and La Matineire among others. She has been teaching her principles to a wide range of people ranging -from factory workers to board executives and their teams;retail; C.I.D, army, navy and police; School teachers and Management Students- almost 50 different multi-nationals. She has developed customized training programs appropriate for all levels in business and has been particularly well received.
Her career is complemented with extensive voluntary work and events management activities. She has held reputed posts in social clubs and organizations (Rotaract, Interact, NCC, Girl Guides and Scouts, AISEC).Pranic and Reiki skills of hers has helped many people Internationally.
Punam's talents are also reflected in Interior and Jewlery Designing Skills along with Vaastu and Feng Shui Consultation. She is well travelled adding cultural experience to her expertise – besides Indian States, has had the opportunity to visit USA, UK, U.A.E., Switzerland, France, Austria, Italy, Germany, Vatican, Singapore, Sri Lanka, Indonesia, Netherland, Belgium and Bhutan.
Among various awards won by Punam the notable ones are – 'The President's Award' given by the President of India ,The Governor's Award given by the Governor of West Bengal, Fish of the Month given by EK Group- EKFC, Award of Honour given by MyCareers – Bhatinda, Behind the Scenes Worker given by KAMA Ayurveda Pvt Ltd, Most Fabulous Training and Development Leader North: Catalyst of Change given by World HRD Congress; Woman of Excellence awarded by Indian and International Achiever's Forum and Best Woman Performer in Learning and Development Award at International Inspirational Women Award (IIWA) 2020. CEO Business Magazine awardee for being one among the 25 Business Women to be followed in 2022.
She has a strong passion for the work that she delivers with integrity and responsibility. Over 11 lakhs individuals have been counselled and trained by her so far.